SSRG International Journal of Pharmacy and Biomedical Engineering (IJPBE)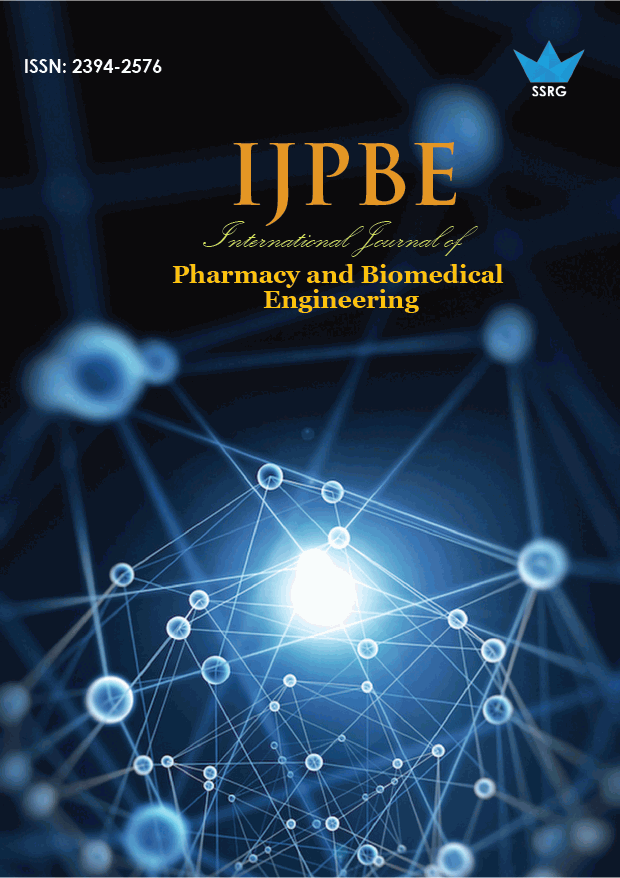 | | |
| --- | --- |
| Editor in Chief | Dr. Nethaji Ramalingam, |
| | Professor & Head, |
| | Department of Pharmaceutics, |
| | Devaki Amma Memorial College of Pharmacy, Kerala, India. |
| ISSN | 2394 - 2576 |
| Publication Frequency | 3 Issue per Year |
| Publisher | Seventh Sense Research Group® ( SSRG ) |
| Paper Submission id | ijpbe@ssrgjournals.org |
| Impact Factor | 0.47 |
SSRG International Journal of Pharmacy and Biomedical Engineering ( SSRG - IJPBE ) is a scholarly peer reviewed research publishing Journal.
Aim and Scope:
SSRG International Journal of Pharmacy and Biomedical Engineering - IJPBE publishes papers in the field of biomedical engineering and its application in clinical medicine and pharmacy, defining biomedical Sciences as the intersection field of Engineering and technology including the basic sciences (mathematics chemistry, physics) first hand and medicine (diagnosis and therapy) using the experimental research methods and concepts. This journal is an international medium directed towards the needs of academic, clinical, government and industrial analysis by publishing original research reports and critical reviews on pharmaceutical and biomedical analysis. It covers the interdisciplinary aspects of analysis in the pharmaceutical, biomedical and clinical sciences, including developments in analytical methodology, instrumentation, computation and interpretation. Submissions on novel applications focusing on drug purity and stability studies, pharmacokinetics, therapeutic monitoring, metabolic profiling; drug-related aspects of analytical biochemistry and forensic toxicology; quality assurance in the pharmaceutical industry are also welcome.
The journal presents original papers, reviews, reports and letters. The primary goal of this journal is to advance the understanding of clinical application of technical and engineering structure and function by application of the principles of engineering, medical and pharmaceutical science, and by presenting the work in engineering, medical and pharmaceutical context.
Authors Geographical Coverage :
Bangladesh, Indonesia, Ethiopia, USA, India, Turkey, Argentina, Iran, Nigeria, Cameroon, Saudi Arabia, etc.