SSRG International Journal of Civil Engineering ( IJCE )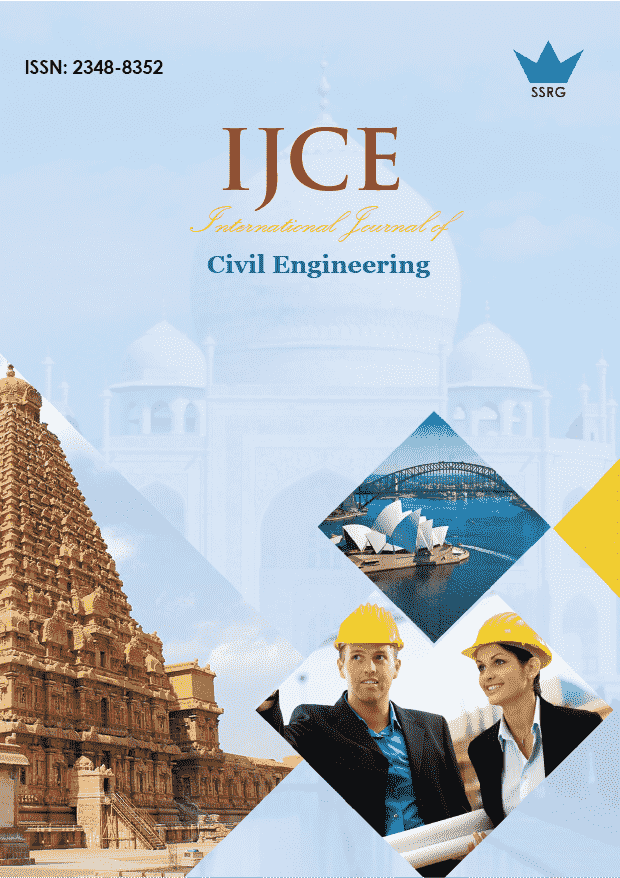 | | |
| --- | --- |
| Editor in Chief | Dr. Merdaci Slimane, |
| | Department of Civil Engineering & Public Works, |
| | University Djillali liabes Sidi Bel Abbes, |
| | Algeria. |
| E-ISSN | 2348 - 8352 |
| Publication Frequency | 12 Issue per Year |
| Publisher | Seventh Sense Research Group® |
| Paper Submission id | ijce@internationaljournalssrg.org |
| Impact Factor | 1.60(Based on Google Scholar Citations) |
SSRG International Journal of Civil Engineering ( SSRG - IJCE ) is a scholarly peer reviewed research publishing Journal.
Aim and Scope:
SSRG International Journal of Civil Engineering - IJCE is devoted to original and interdisciplinary, peer-reviewed papers on research related to the broad spectrum of civil engineering with similar emphasis on all topics. The journal provides a forum for the International Civil Engineering Community to present and discuss matters of major interest e.g. new developments in civil regulations, latest advancements in civil engineering, etc,. The goal of this journal is to provide a platform for scientists and academicians all over the world to promote, share, and discuss various new issues and developments in different areas of civil engineering. The journal aims to provide a multidisciplinary forum for researchers, designers, users and manufacturers involved in the different fields of civil engineering and management.
IJCE also provides an international forum for the dissemination of the latest original research, achievements and developments in many areas of civil engineering and management (excluding specific areas as seismic processes and earthquake engineering, offshore engineering, hydrology and hydraulic engineering, underground structures, transportation and traffic engineering, land surveying and mapping). The topics are included but are not necessarily restricted to:- Structures- Geotechnics- Transportation- Environment- Earthquakes- Water Resources- Construction Engineering and Management, and New Materials.
Papers are solicited from, but not limited to the following topics:
Advance Construction Techniques
Advanced Earthquake Resistant Techniques
Building Material and Construction Technology
Building Planning and Drawing
Concrete Technology
Construction Engineering and Surveying
Cyclone Resistant Building Construction
Design Engineering
Design-Construction Integration
Drainage and Sewer Design
Engineering Informatics and Simulation
Fibre Reinforced Concrete
Geology in Civil Engineering
Innovation Management
Modeling and Simulation
Optimization Tools and Techniques
Performance-Based Engineering
Quality Management Systems
Solar Building and River Mechanics
Strength of Materials or Solid Mechanics
Structural Engineering
Supply-Chain Management
Surveying in Civil Engineering
Transportation Engineering
Authors Geographical Coverage :
USA, China, Ireland, Spain, Australia, Sri Lanka, Korea, Senegal, Indonesia, Oman, Malaysia, Iraq, Nigeria, Bangladesh, Saudi Arabia, Europe, Iran, India, New Zealand, Egypt, Pakistan, Afghanistan, Turkey, Africa, Asia, Serbia, Quatar, etc