Enhanced Conviction Cognizant Facility Mediating Method for Manifold Cloud Cooperative Services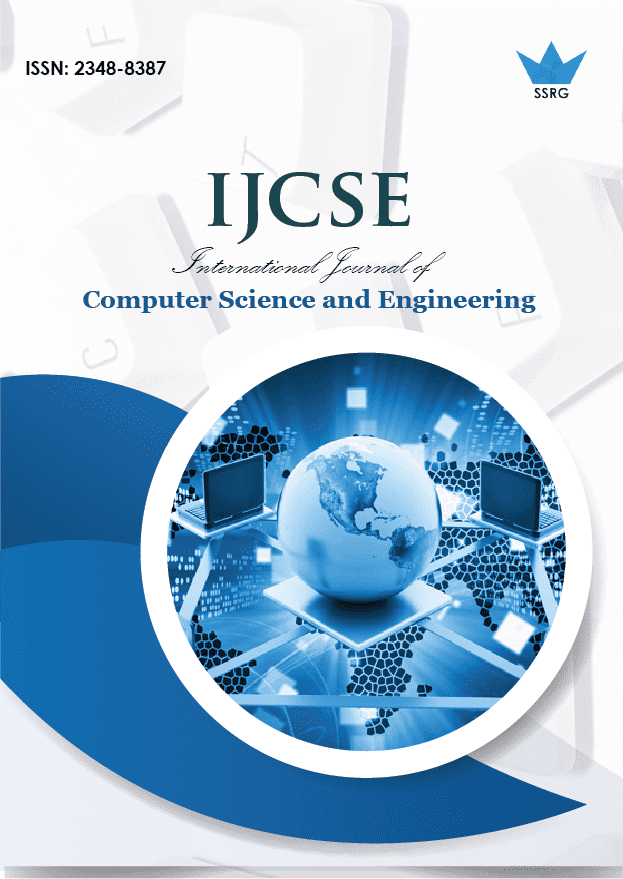 International Journal of Computer Science and Engineering
© 2016 by SSRG - IJCSE Journal
Volume 3 Issue 4
Year of Publication : 2016
Authors : Dr.V.Ragavi, DuggineniSharmila

10.14445/23488387/IJCSE-V3I4P110
How to Cite?
Dr.V.Ragavi, DuggineniSharmila, "Enhanced Conviction Cognizant Facility Mediating Method for Manifold Cloud Cooperative Services," SSRG International Journal of Computer Science and Engineering , vol. 3, no. 4, pp. 23-27, 2016. Crossref, https://doi.org/10.14445/23488387/IJCSE-V3I4P110
Abstract:
Distributed computing is the utilization of registering assets, for example, equipment and programming that are conveyed as a membership based administration and on interest administrations over a system. In distributed computing situations, there are two players: cloud suppliers and cloud clients. Clients dependably need to send their most touchy information to cloud administration focuses, which depends on the trust relationship set up in the middle of clients and administration suppliers. So we require such a middleware systemof trust administration that can successfully lessen client trouble and enhance framework trustworthiness. To expand the selection of cloud administrations, a cloud dealer ought to set up and give trust administration ability to lighten the stresses of their clients. Utilizing SOTS [Service Operator-mindful Trust Scheme], the specialist can effectively and precisely set up the most trusted assets and accordingly give more tried and true assets to clients. Generally cloud suppliers give affirmations by determining specialized and utilitarian depictions in Service level assertions (SLAs) for the administrations they offer. However, the clients are not certain whether they can recognize reliable cloud suppliers just taking into account its SLA. We address SOTS for reliable asset matchmaking over different mists. In this work we can encourage the viable usage of SOTS in a huge scale multi-cloud environment by utilizing GTD based asset matchmaking calculation and FSLA system.
Keywords:
In this work we can encourage the viable usage of SOTS in a huge scale multi-cloud environment by utilizing GTD based asset matchmaking calculation and FSLA system.
References:
[1] M. Singhalet al., "Collaboration in multicloud computing environments:Framework and security issues,"Computer, vol. 46, no. 2, pp. 76–84,Feb. 2013.
[2] H. M. Fard, R. Prodan, and T. Fahringer, "A truthful dynamic workflowscheduling mechanism for commercial multicloud environments,"IEEETrans.Parallel Distrib. Syst., vol. 24, no. 6, pp. 1203–1212, Jun. 2013.
[3] F. Paraiso, N. Haderer, P. Merle, R. Rouvoy, and L. Seinturier,"A federated multi-cloud PaaS infrastructure," in Proc. 5th IEEE Int.Conf. Cloud Comput. (CLOUD), Jun. 2012, pp. 392– 399.
[4] P. Jain, D. Rane, and S. Patidar, "A novel cloud bursting brokerageand aggregation (CBBA) algorithm for multi cloud environment," inProc.2nd Int. Conf. Adv. Comput.Commun. Technol. (ACCT), Jan. 2012,pp. 383–387.
[5] K. M. Khan and Q. Malluhi, "Establishing trust in cloud computing,"IT Prof., vol. 12, no. 5, pp. 20–27, Sep./Oct. 2010.
[6] K. Hwang and D. Li, "Trusted cloud computing with secure resourcesand data coloring," IEEE Internet Comput., vol. 14, no. 5, pp. 14–22,Sep./Oct. 2010.
[7] H.Kim,H.Lee, W.Kim,andY.Kim, "Atrust evaluation modelforQoS guarantee in cloud systems,"Int. J. Grid Distrib. Comput.,vol.3,no. 1, pp. 1–10, Mar. 2010.
[8] P. D. Manuel, S. ThamaraiSelvi, and M. I. A.-E. Barr, "Trustmanagement system for grid and cloud resources," inProc.1st Int. Conf.Adv.Comput. (ICAC), Dec. 2009, pp. 176– 181.
[9] L.-Q. Tian, C. Lin, and Y. Ni, "Evaluation of user behaviortrust in cloud computing," in Proc. Int. Conf. Comput. Appl. Syst.Modeling (ICCASM), Oct. 2010, pp. V7-576–V7-572.
[10] X. Li and Y. Yang, "Trusted data acquisition mechanism for cloudresource scheduling based on distributed agents,"Chin. Commun.,vol.8,no. 6, pp. 108–116, 2011.
[11] X. Li, H. Ma, F. Zhou, and X. Gui, "Service operator-aware trust schemefor resource matchmaking across multiple clouds,"IEEE Trans. ParallelDistrib. Syst., to be published, doi: 10.1109/TPDS.2014.2321750.
[12] (2014). OPTIMIS.[Online]. Available: http://www.optimisproject. eu/
[13] W. Fan and H. Perros, "A novel trust management frameworkfor multi-cloud environments based on trust service providers,"Knowl.-Based Syst., vol. 70, pp. 392–406, Nov. 2014.
[14] N. Ghosh, S. K. Ghosh, and S. K. Das, "SelCSP: A framework tofacilitate selection of cloud service providers," IEEE Trans. CloudComput., vol. 3, no. 1, pp. 66–79, Jan./Mar. 2015.
[15] A. Nagarajan and V. Varadharajan, "Dynamic trust enhanced securitymodel for trusted platform based services,"FutureGenerat.Comput.Syst., vol. 27, no. 5, pp. 564–573, 2011.