Performance Comparison of Tcp And Cbr Traffic Based In Wimax Environment Using NS-2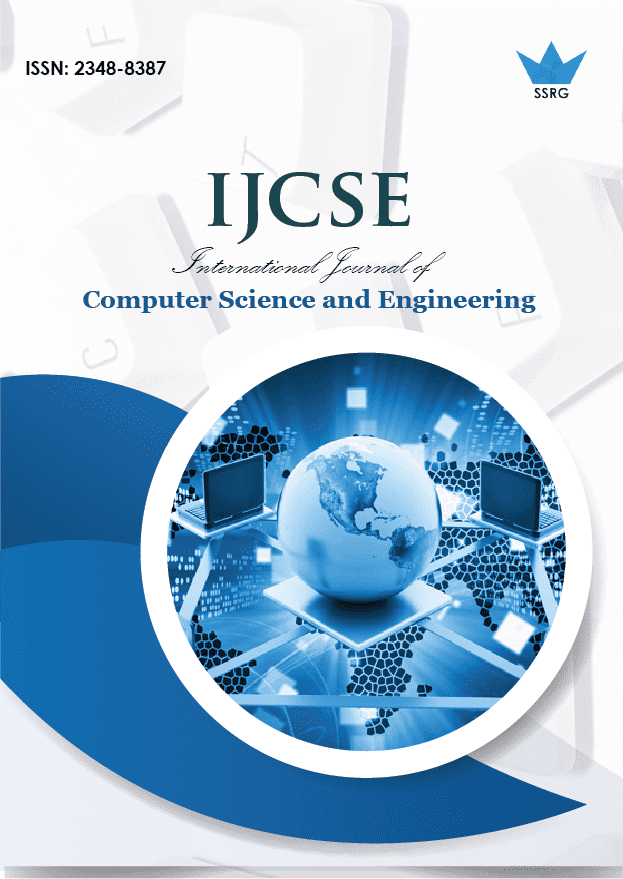 International Journal of Computer Science and Engineering
© 2020 by SSRG - IJCSE Journal
Volume 7 Issue 1
Year of Publication : 2020
Authors : Gajendra Shakya,Sarvesh Kumari,Abhilash Mishra, Ashish Gupta

10.14445/23488387/IJCSE-V7I1P103
How to Cite?
Gajendra Shakya,Sarvesh Kumari,Abhilash Mishra, Ashish Gupta, "Performance Comparison of Tcp And Cbr Traffic Based In Wimax Environment Using NS-2," SSRG International Journal of Computer Science and Engineering , vol. 7, no. 1, pp. 12-15, 2020. Crossref, https://doi.org/10.14445/23488387/IJCSE-V7I1P103
Abstract:
WiMAX will offer high speed broadband wireless access within a range of several kilometers. The same radio technology will also offer high speed
data services to all nomadic terminals (laptops, PDAs, etc.) with an optimized tradeoff between throughput and coverage. To provide high speed internet services in WiMAX technology can be useful. So we have decided work for this technology. In this paper we have compare the performance with different traffic source like as TCP and CBR using AODV routing scheme in wireless environment, and find the performance metrics like as packet delivery ratio and average end to end delay with variation of nodes.
Keywords:
WiMax, TCP, CBR, NS-2.
References:
[1] Ritika Sharma & Kamlesh Gupta "Comparison based Performance Analysis of UDP/CBR and TCP/FTP Traffic under AODV Routing Protocol in MANET" International Journal of Computer Applications (0975 – 8887) Volume 56– No.15, October 2012 PP 28-35.
[2] Juma Modie Mwamafundo, Sang Kipkorir, and Felix Musau "An Enhanced Service Flow Management Scheme for IEEE 802.16 Broadband Wireless Access Systems" International Journal of Computer Theory and Engineering, Vol. 4, No. 4, August 2012 PP 484-488.
[3] Mr. Sanjeev Kumar Choudhary Mr. Sanjay Kumar Dubey Mr. Ramesh Gupta " Wimax Technology: A Secure Broadband Connectivity for Governments, Military Services in Rural/Strategic Isolated Locations" International Journal of Advanced Research in Computer Science and Software Engineering 3(6), June - 2013, pp. 363-368.
[4] Vandana V. Gawit1, Namrata D. Ghuse2 "Wireless Broadband Network, WiMAX Security and Applications" International Journal of Computer Science and Mobile Computing, Vol.4 Issue.3, March- 2015, pg. 641-646.
[5] WiMAX Forum, "WiMAX Forum Web page," September 2008, http://www.wimaxforum.org/.
[6] Wasan Ali Hussein, Song Feng Lu " Performance Comparison of Transport Layer Protocols for Multimedia Application in Wired Networks" IOSR Journal of Computer Engineering (IOSR-JCE) e-ISSN: 2278-0661,p-ISSN: 2278-8727, Volume 18, Issue 6, Ver. I (Nov. - Dec. 2016), PP 33-3.
[7] Pakanati, M. Padmavathamma, N. R. Reddy, "Performance Comparison of TCP, UDP, and TFRC in Wired Networks" IEEE International Conference on Computational Intelligence & Communication Technology, 2015, pp. 257 – 263.
[8] H. M. Omer, S. A. Mailk, M. Yousaf, "Performance Evaluation of Transport Layer Protocols for Video Traffic over WiMax" IEEE 13th International Multitopic Conference, INMIC IEEE, 2009, pp. 1-6.
[9] Ali Hussein Wheeb "Performance Comparison of Transport Layer Protocols" International Journal of Advanced Research in Computer Science and Software Engineering Volume 5, Issue 12, December 2015 ISSN: 2277 128X pp; 221-226.
[10] Preeti, Mtech CSE, Renu Singla, "Simulation Based Performance Analysis of TCP Transport Layer Protocol Based on Wired Network Using NS-2" International Journal of Advanced Research In Computer Science and Software Engineering" page 272-278, Volume 5, Issue 4,2015.
[11] Charu Rawal and Rajeev Gupta "A Novel Approach to Enhance QoS in Mobile WiMAX Networks" International Journal of Computer Applications Volume 140 – No.2, April 2016 pp; 0975-8887.
[12] The network simulator NS-2 Available on http://www.isi.edu/nsnam/ns/index.html