Estimating Heart Disease Used by Data Mining and Artificial Intelligence Techniques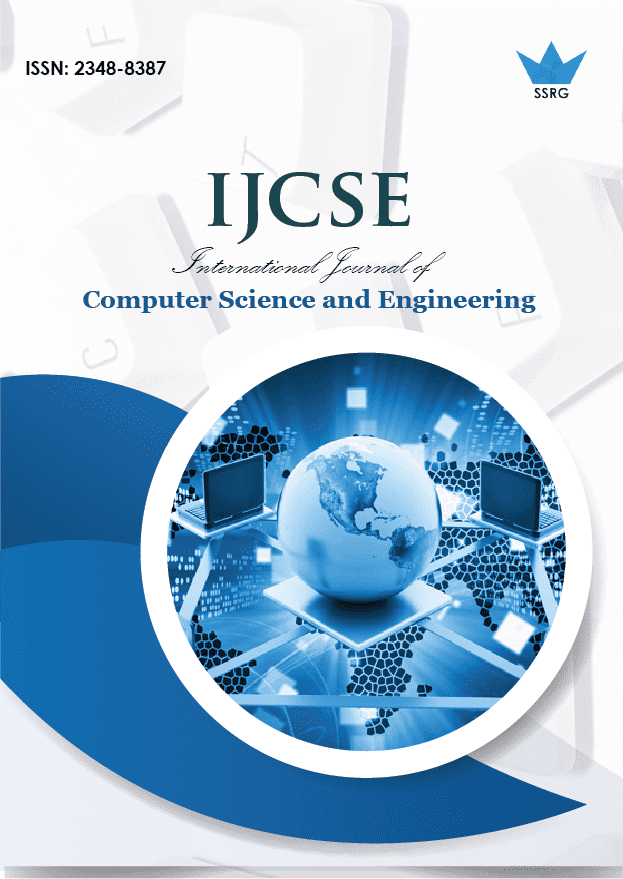 International Journal of Computer Science and Engineering
© 2023 by SSRG - IJCSE Journal
Volume 10 Issue 4
Year of Publication : 2023
Authors : R. Surendiran

10.14445/23488387/IJCSE-V10I4P101
How to Cite?
R. Surendiran, "Estimating Heart Disease Used by Data Mining and Artificial Intelligence Techniques," SSRG International Journal of Computer Science and Engineering , vol. 10, no. 4, pp. 1-7, 2023. Crossref, https://doi.org/10.14445/23488387/IJCSE-V10I4P101
Abstract:
The heart is the most dangerous and significant part of the human physique. Life is entirely reliant upon the healthy operation of our hearts. It is a significant cause of death in the modern biosphere. One of the most critical health problems facing people today is heart illness. It is reportedly the leading cause of demise around the globe. Medical specialists frequently find it challenging to predict a cardiac illness early on. Many valuable hidden facts and information in the health sector today might be used to make predictions, particularly in treatment. Data mining remains a process for examining massive datasets before producing substantial and practical outcomes using exceptional AI-based apparatuses. This article aims to anticipate cardiovascular or heart illness using 3 AI devices Decision tree, naive Bayes, and a neural system. These techniques' determination is assessed based on many particular & factors with improvements for greater accuracy. The correctness based on various characteristics of each approach will then be compared. Afterwards, the most reliable method determines whether a man or woman resolves to develop coronary heart ailment. Medical professionals can utilize this method to anticipate diseases early so that prompt treatment can the given if he is persevering.
Keywords:
Data mining, Artificial intelligence, Heart, Illness, Estimate.
References:
[1] Senthilkumar Mohan et al., "Effective Heart Disease Prediction Using Hybrid Machine Learning Techniques," IEEE Access, vol. 7, pp. 81542-81554, 2019.
[CrossRef] [Google Scholar] [Publisher Link]
[2] Saba Bashir et al., "Improving Heart Disease Prediction Using Feature Selection Approaches," 2019 16th International Bhurban Conference on Applied Sciences and Technology (IBCAST), pp. 619-623, 2019.
[CrossRef] [Google Scholar] [Publisher Link]
[3] Mohammad Shafenoor Amin, Yin Kia Chiam, and Kasturi Dewi Varathan, "Identification of Significant Features and Data Mining Techniques in Predicting Heart Disease," Telematics and Informatics, vol. 36, pp. 82-93, 2019.
[CrossRef] [Google Scholar] [Publisher Link]
[4] Liaqat Ali et al., "An Automated Diagnostic System for Heart Disease Prediction Based on x2 Statistical Model and Optimally Configured Deep Neural Network," IEEE Access, vol. 7, pp. 34938-34945, 2019.
[CrossRef] [Google Scholar] [Publisher Link]
[5] Srabanti Maji, and Srishti Arora, "Decision Tree Algorithms for Prediction of Heart Disease," Information and Communication Technology for Competitive Strategies, pp. 447-454, 2019.
[CrossRef] [Google Scholar] [Publisher Link]
[6] Youness Khourdifi, and Mohamed Bahaj, "Heart Disease Prediction and Classification Using Machine Learning Algorithms Optimized By Particle Swarm Optimization and Ant Colony Optimization," International Journal of Intelligent Engineering and Systems, vol. 12, no. 1, pp. 242-252, 2018.
[CrossRef] [Google Scholar] [Publisher Link]
[7] Neha Walia, and Arvind Kalia, "Programming Languages for Data Mining: A Review," International Journal of Computer Trends and Technology, vol. 68, no. 1, pp. 38-41, 2020.
[CrossRef] [Publisher Link]
[8] C. Beulah Christalin Latha, and S. Carolin Jeeva, "Improving the Accuracy of Prediction of Heart Disease Risk Based on Ensemble Classification Techniques," Informatics in Medicine Unlocked, vol. 16, 2019.
[CrossRef] [Google Scholar] [Publisher Link]
[9] Safial Islam Ayon, Md. Milon Islam, and Md. Rahat Hossain, "Coronary Artery Heart Disease Prediction: A Comparative Study of Computational Intelligence Techniques," IETE Journal of Research, vol. 38, no. 4, pp. 2488-2507, 2020.
[CrossRef] [Google Scholar] [Publisher Link]
[10] Kavita Burse et al., "Various Preprocessing Methods for Neural Network-Based Heart Disease Prediction," Smart Innovations in Communication and Computational Sciences, vol. 851, pp. 55-65, 2019.
[CrossRef] [Google Scholar] [Publisher Link]
[11] Monther Tarawneh, and Ossama Embarak, "Hybrid Approach for Heart Disease Prediction Using Data Mining Techniques," Advances in Internet, Data and Web Technologies, pp. 447-454, 2019.
[CrossRef] [Google Scholar] [Publisher Link]
[12] S.Sreekanth, and Dr. P.C. Rao, "Anomaly Detection using Data Mining Methods", International Journal of Computer Trends and Technology, vol. 67, no. 12, pp. 20-23, 2019.
[CrossRef] [Publisher Link]
[13] Juan-Jose Beunza et al., "Comparison of Machine Learning Algorithms for Clinical Event Prediction (Risk of Coronary Heart Disease)," Journal of Biomedical Informatics, vol. 97, 2019.
[CrossRef] [Google Scholar] [Publisher Link]
[14] Amanda H. Gonsalves et al., "Prediction of Coronary Heart Disease Using Machine Learning: An Experimental Analysis," Proceedings of the 2019 3rd International Conference on Deep Learning Technologies, pp. 51-56, 2019.
[CrossRef] [Google Scholar] [Publisher Link]
[15] Sravani Nalluri et al., "Chronic Heart Disease Prediction using Data Mining Techniques," Data Engineering and Communication Technology, pp. 903-912, 2020.
[CrossRef] [Google Scholar] [Publisher Link]
[16] Dr.I.Lakshmi, and Y.Yogalakshmi, "A Study on Stress Management Strategies Factors Among Employees in It Sector Using Data Mining," International Journal of Computer and Organization Trends, vol. 9, no. 3, pp. 22-25, 2019.
[CrossRef] [Publisher Link]
[17] Chandra Babu Gokulnath, and S. P. Shantharajah, "An Optimized Feature Selection Based on Genetic Approach and Support Vector Machine for Heart Disease," Cluster Computing, vol. 22, no. 6, pp. 14777-14787, 2019.
[CrossRef] [Google Scholar] [Publisher Link]
[18] I. Ketut Agung Enriko, "Comparative Study of Heart Disease Diagnosis using Top Ten Data Mining Classification Algorithms," Proceedings of the 5th International Conference on Frontiers of Educational Technologies, pp. 159-164, 2019.
[CrossRef] [Google Scholar] [Publisher Link]
[19] Archana Singh, and Rakesh Kumar, "Heart Disease Prediction using Machine Learning Algorithms," 2020 International Conference on Electrical and Electronics Engineering (ICE3), pp. 452-57, 2020.
[CrossRef] [Google Scholar] [Publisher Link]
[20] Shekharesh Barik et al., "Heart Disease Prediction using Machine Learning Techniques," Advances in Electrical Control and Signal Systems, pp. 879-88, 2020.
[CrossRef] [Publisher Link]
[21] Amogh Powar et al., "Data Mining & Artificial Intelligence Techniques for Prediction of Heart Disorders: A Survey," 2019 International Conference on Vision Towards Emerging Trends in Communication and Networking (Vitecon), pp. 1-7, 2019.
[CrossRef] [Google Scholar] [Publisher Link]
[22] Kumari, M., and Godara, S, "Comparative Study of Data Mining Classification Methods in Cardiovascular Disease Prediction," 2011.
[23] Wesley Odeh Odumu, and Ezekiel Endurance Chukwuemeke Igbonoba, "Big Data Mining Model to Predict Electronic Payment System using Machine Learning", International Journal of Recent Engineering Science, vol. 9, no. 2, Mar-Apr. 2022, pp. 7-17.
[CrossRef] [Publisher Link]
[24] Chaitrali S. Dangare, and Sulabha S. Apte, "Improved Study of Heart Disease Prediction System Using Data Mining Classification Techniques," International Journal of Computer Applications, vol. 47, no. 10, pp. 44-48, 2012.
[CrossRef] [Google Scholar] [Publisher Link]
[25] Ashish Chhabbi et al., "Heart Disease Prediction Using Data Mining Techniques," International Journal of Research in Advent Technology.
[Publisher Link]
[26] Dr. Hassabelrasul Yousuf AL Tom Shihabeldeen, "An Application in Islamic Financial Sector Using Data Mining," SSRG International Journal of Economics and Management Studies, vol. 6, no. 11, pp. 107-111, 2019.
[CrossRef] [Publisher Link]
[27] Resul Das, Ibrahim Turkoglu, and Abdulkadir Sengur, "Effective Diagnosis of Heart Disease Through Neural Networks Ensembles," Expert Systems with Applications: An International Journal, vol. 36, no. 4, pp. 7675-80, 2009.
[CrossRef] [Google Scholar] [Publisher Link]
[28] Resul Das, Ibrahim Turkoglu, and Abdulkadir Sengur, "Diagnosis of Valvular Heart Disease through Neural Networks Ensembles," Computer Methods Programs Biomedicine, vol. 93, pp. 185–191, 2009.
[CrossRef] [Google Scholar] [Publisher Link]
[29] C. Gokulnath et al., "Preservation of Privacy in Data Mining by using PCA Based Perturbation Technique," International Conference on Smart Technologies and Management for Computing, Communication, Controls, Energy and Materials (ICSTM), pp. 202-206, 2015.
[CrossRef] [Google Scholar] [Publisher Link]
[30] Revathi.S et al., "Increasing Crop Production Based on Data Mining Concepts," SSRG International Journal of Computer Science and Engineering, vol. 5, no. 10, pp. 3-6, 2018.
[CrossRef] [Publisher Link]
[31] Ismail Babaoglu et al., "Assessment of Exercise Stress Testing with Arti- Ficial Neural Network in Determining Coronary Artery Disease and Predicting Lesion Localization," Expert Systems with Applications, vol. 36, no. 2, pp. 2562–2566, 2009.
[CrossRef] [Google Scholar] [Publisher Link]
[32] K. Rajeswari, V. Vaithiyanathan, and T.R. Neelakantan, "Feature Selection in Ischemic Heart Disease Identification using Feed Forward Neural Networks," Procedia Engineering, vol. 41, pp. 1818–1823, 2012.
[CrossRef] [Google Scholar] [Publisher Link]
[33] Xindong Wu et al., "Top 10 Algorithms in Data Mining," Knowledge and Information Systems, vol. 14, no. 1, pp. 1-37, 2008.
[CrossRef] [Google Scholar] [Publisher Link]
[34] Ashitosh Tilve et al., "Pneumonia Detection using Deep Learning Approaches," 2020 International Conference on Emerging Trends in Information Technology and Engineering (IC-ETITE), pp. 1-8, 2020.
[CrossRef] [Google Scholar] [Publisher Link]