SSRG International Journal of Humanities and Social Science ( IJHSS )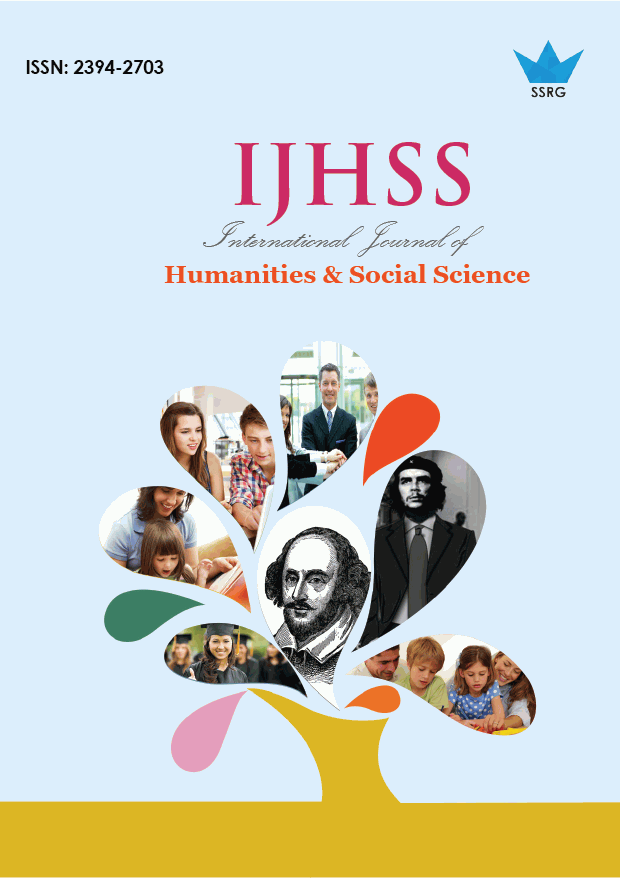 | | |
| --- | --- |
| Editor in Chief | Dr. Kamlesh Singh, |
| | Department of Humanities & Social Sciences, |
| | Indian Institute of Technology (IIT), |
| | Delhi, India. |
| ISSN | 2394-2703 |
| Publication Frequency | 6 Issue per Year |
| Publisher | Seventh Sense Research Group® |
| Paper Submission id | ijhss@internationaljournalssrg.org |
The SSRG International Journal of Humanities and Social Sciences is a double-blind peer-reviewed, open-access journal published by Seventh Sense Research Group® that publishes research papers across all academic disciplines in the humanities and social sciences.
Aim and Scope:
The journal aims to promote multidisciplinary and interdisciplinary studies, bridge diverse communities of the humanities and social sciences in the world, provide a platform of academic exchange for scholars and readers from all countries and all regions, promote intellectual development in global humanities and social sciences, and encourage original, theoretical, and empirical research into new areas, new issues, and new subject matters.
Our scope is inclusive and open to theoretical, methodological, quantitative and qualitative scholarship that contributes to the article that speaks to emerging areas of thinking, agenda-setting issues, or grand societal challenge—irrespective of the perspectives where there is a clear relevance to the advancement of the humanities or social sciences. All submissions will be evaluated based on their scientific and methodological validity and robustness of research, and the journal adheres to the highest scientific standards by following a rigorous double-blind peer-review process. Any submission reporting scientifically accurate and valuable research will be considered for publication.
SSRG-IJHSS publishes original papers, review papers, conceptual frameworks, analytical and simulation models, case studies, empirical research, technical notes, and book reviews.
Papers are solicited from, but not limited to, the following topics:
Anthropology
Archaeology
Business
Civics
Communication
Complex Networks
Conflict Studies
Consumer behaviour
Criminology & Penology
Cultural Studies
Demography
Development Studies
Digital Humanities
Economics &Education
Environmental Studies
Ethics
Film Studies
Finance
Gender Studies
Gender, Ethnicity, and Diversity
Geography
Geopolitical relationships
Health and Medical Humanities
Health Policy & Services
History
Hospitality, Leisure, Sport & Tourism
Information Science & Library Science
International Political Economy
International Relations
Language & Linguistics
Law & Languages
Library Science
Linguistics
Literature and languages
Management
Media Studies
Mythology
Operational research
Organizational studies
Performing Arts (Music, Theatre & Dance)
Philosophy
Political Science and Public Administration
Psychology
Religious Studies
Risk Management
Science/Technology & Society
Social Policy
Sociology
Technology and human behaviour
Theatre & Performance
Urban Studies
Visual Arts
Authors Geographical Coverage :
Nigeria, Vietnam, China, Indonesia, Egypt, Sri Lanka, India, Jordan, USA, Kenya, Bangladesh, Malaysia, México, Turkey, Afghanistan, Cambodia, Korea, Greece, Saudi Arabia, United Kingdom, Iran, Africa, Australia, Oman, Philippines, Palestine, Ukraine, Israel, Ethiopia, Slovenia etc.,