SSRG International Journal of Industrial Engineering ( IJIE )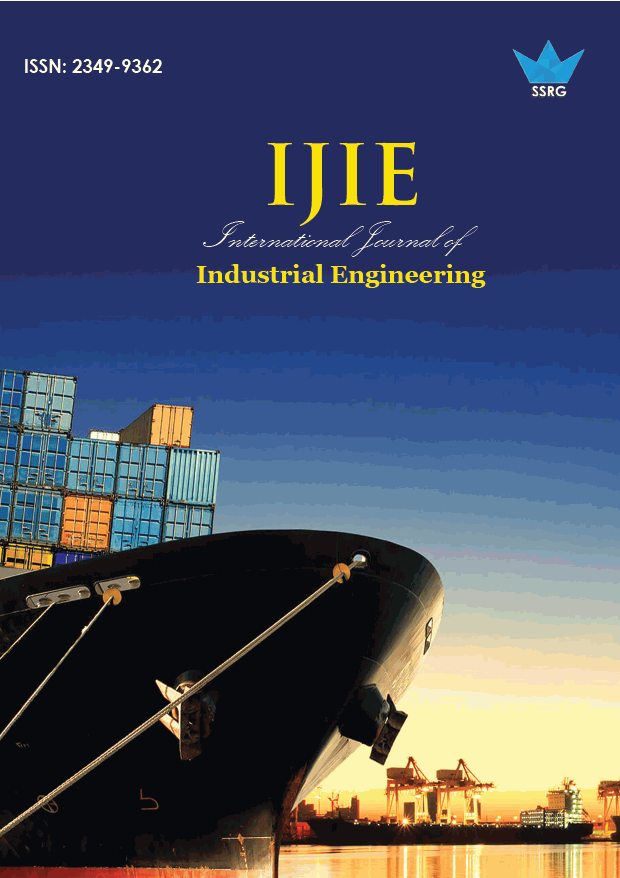 | | |
| --- | --- |
| Editor in Chief | Dr. Javad Khamisabadi, |
| | Department of Industrial Management, |
| | Central Tehran Branch, Islamic Azad University, |
| | Tehran, Iran. |
| ISSN | 2349-9362 |
| Publication Frequency | 3 Issue per Year |
| Publisher | Seventh Sense Research Group® |
| Paper Submission id | ijie@internationaljournalssrg.org |
SSRG International Journal of Industrial Engineering ( SSRG - IJIE ) is a scholarly double-blind peer-reviewed research publishing Journal.
Aim and Scope:
SSRG International Journal of Industrial Engineering - IJIE is an international journal dedicated to the latest advancement of industrial engineering. The goal of this journal is to provide a platform for engineers and academicians all over the world to promote, and share various new issues and developments in different areas of industrial engineering. A major aim of the journal is to foster international exchange of ideas and experiences among scholars and practitioners with shared interests all over the world, IJIE aimed at an audience of researchers, educators and practitioners of industrial engineering and associated fields. It publishes original contributions on the development of new computerized methodologies for solving industrial engineering problems, as well as the applications of those methodologies to problems of interest in the broad industrial engineering and associated communities. The journal encourages submissions that expand the frontiers of the fundamental theories and concepts underlying industrial engineering techniques.
IJIE also serves as a venue for articles evaluating the state-of-the-art of computer applications in various industrial engineering and related topics, and research in the utilization of computers in industrial engineering education. Papers reporting on applications of industrial engineering techniques to real life problems are welcome, as long as they satisfy the criteria of originality in the choice of the problem and the tools utilized to solve it, generality of the approach for applicability to other problems, and significance of the results produced.
Papers are solicited from, but not limited to the following topics:
Allied and Engineering Management
Analytics and Machine Learning
Automation in Production System
Decision-Making Technologies and Integrated Systems
Ergonomics/Human Factors Engineering
Financial Engineering
Human Factors
Industrial Design, and Service Systems
Information Systems
Inventory Management and Control
Logistics Engineering
Management Science and Engineering
Manufacturing Engineering
Network Design
Operations Research
Process Optimization
Production and Operations Management
Production Systems Engineering
Quality Engineering
Safety Engineering
Scheduling Systems
Supply Chain Engineering
Supply Chains and Logistics
Systems Engineering
Authors Geographical Coverage :
Europe, Germany, Egypt, Malaysia, Russia, Iran, South Africa, Congo, Ethiopia, India, Norway, Bangladesh, Korea, Nigeria, Argentina, Indonesia, Turkey, Brazil, Saudi Arabia, etc.