SSRG International Journal of Mobile Computing and Application (IJMCA)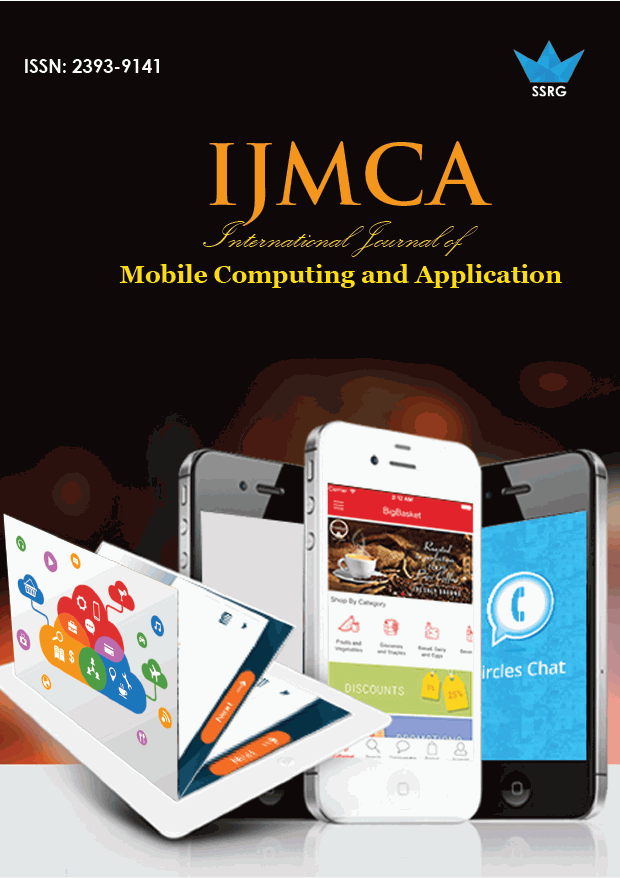 | | |
| --- | --- |
| Editor in Chief | Dr. Shivakumara Palaiahnakote, |
| | Department Of Computer System & Technology, |
| | University of Malaya, |
| | Malaysia. |
| ISSN | 2393-9141 |
| Publication Frequency | 3 Issue per Year |
| Publisher | Seventh Sense Research Group® |
| Paper Submission id | ijmca@ssrgjournals.org |
SSRG International Journal of Mobile Computing and Application ( SSRG - IJMCA ) is a scholarly double-blind peer-reviewed research publishing Journal.
Aim and Scope:
SSRG International Journal of Mobile Computing and Application - IJMCA reflects the emerging symbiosis of portable computers and wireless networks, addressing the convergence of mobility, computing and information organization, access and management. The journal places an equal emphasis on various areas of nomadic computing, data management, related software and hardware technologies, and mobile user services, alongside more 'classical' topics in wireless and mobile networking. The journal documents practical and theoretical results which make a fundamental contribution
IJMCA is a professional, peer-reviewed journal that publishes high-quality scientific articles (both theory and practice) covering all aspects of pervasive computing and communications, research developments in such technologies like wireless communications and networking, mobile computing and handheld devices, embedded systems, wearable computers, sensors, RFID tags, smart spaces, middleware, software agents, and the like, have led to the evolution of pervasive computing platforms as natural successor of mobile computing systems. The goal of IJMCA is to create ambient intelligence where network devices embedded in the environment provide unobtrusive connectivity and services all the time, thus improving human experience and quality of life without explicit awareness of the underlying communications and computing technologies.
Papers are solicited from, but not limited to the following topics:
Billing and Security for Mobile Services
Bluetooth
Broadband Wireless Networks
Cloud Computing
Cloud Database Services
Co-Operation in Mobile Multimedia
Database for Mobile Systems
Emerging Access Networks
M-Commerce
Mobile Ad-Hoc Networks
Mobile Aware Applications
Mobile Cloud
Mobile Data Communication
Mobile Operating Systems and Devices
Mobile Security
Mobility Management
Multi-Point, Multicast Services
Optical Wireless
Radio Frequency Identification (RFID)
Security Issues in Wireless Computing
Smartphone Applications
Telematics
VOIP Services
Wireless Advertising
Authors Geographical Coverage :
China, Iraq, USA, Egypt, India, Indonesia, Bangladesh, Tehran, Ukriane, Tunisia, etc.