SSRG International Journal of Mechanical Engineering ( IJME )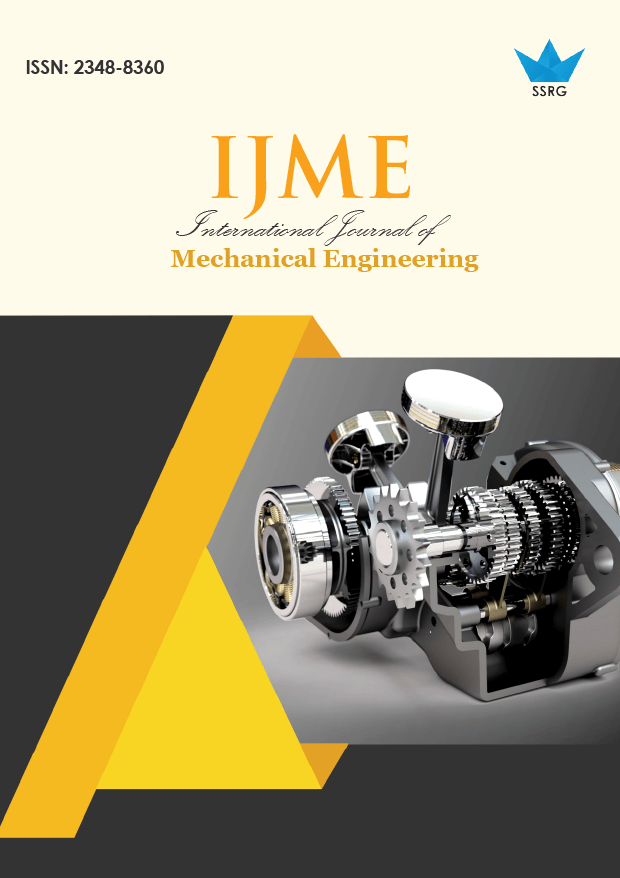 | | |
| --- | --- |
| Editor in Chief | Dr.Gautam Majumdar, |
| | Professor & Head, |
| | Department of Mechanical Engineering, |
| | Jadavpur University, Kolkata, India. |
| E-ISSN | 2348 - 8360 |
| P-ISSN | 2349 - 9168 |
| Publication Frequency | 12 Issue per Year |
| Publisher | Seventh Sense Research Group® ( SSRG ) |
| Paper Submission id | ijme@internationaljournalssrg.org |
| Impact Factor | 1.04 |
SSRG International Journal of Mechanical Engineering ( SSRG - IJME ) is a scholarly peer reviewed research publishing Journal.
Aim and Scope:
SSRG International Journal of Mechanical Engineering - IJME aims to provide an international forum for the publication and dissemination of original work that contributes to the understanding of the main and related disciplines of mechanical engineering, either empirical or theoretical.
The Journal covers the whole spectrum of mechanical engineering science. Original contributions providing insight into the use of analytical, computational (e.g. FEM, BEM, mesh-free methods and others) modelling methods for rigid-body mechanics (e.g. dynamics, vibration, stability), structural mechanics, metal forming, behaviour and application of advanced materials(metals, composite, cellular, smart etc.), impact mechanics, strain localization and other effects of nonlinearity (e.g. large deflections, plasticity, fracture etc.), fluid mechanics (external and internal flows), tribology, thermodynamics and materials processing generally form the core of the journal contents.
Authors Geographical Coverage :
Sweden, Romania, Russia, Taiwan, Mexico, USA, China, Kuwait, Ethiopia, Bulgaria, Turkey, Saudi Arabia, Vietnam, Iran, India, Egypt, Bangladesh, Iraq, Afghanistan, Oman, Nigeria, Senegal(Africa), Indonesia, Australia, London, etc.