International Conference

Aim of Conference:
The aim of International Conference on Interdisciplinary Research in Engineering, Humanities and Sciences IRESH 2022 is to bring all the research domains together on a single platform. This conference will bring the research communities of different areas together at one place to share their researches and ideas. Also the purpose of this conference is to implement the researches of one field into another to bring out the best applications of these researches.
Important Dates:
| | | |
| --- | --- | --- |
| Submission Deadline | - | 11/08/2022 |
| Registration Deadline | - | 16/08/2022 |
| Conference Date | - | 18/08/2022 |
| Venue | - | International School of Technology and Science for Women, Rajhmundry (AP), India. |
Registration Fees:
| | | |
| --- | --- | --- |
| UG/PG Student | - | Rs. 3000 / $ 75 |
| Research Scholar/Staff | - | Rs. 4000 / $ 125 |
| Corporate people | - | Rs. 7500 / $ 200 |
| Active Listener | - | Rs. 1000 / $ 50 |
| Participants | - | Rs. 1000 / $ 50 |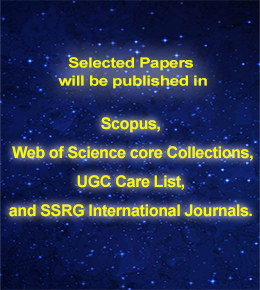 **Note- Accommodation will be arranged based on prior notice.
Submit your paper :
irehs2022@gmail.com
If any queries, feel free to contact: 8110000960, 8110000962, 9940842550
Topics
All Engineering Discipline, Computer Science, Mathematics, Management Studies, Humanities & Science, Science & Technology, Physics, Chemistry, Biotechnology, **Not Limited to the above Topics, Author can submit any subject paper.
Instructions:
** Registration fee includes conference kit, refreshment, lunch, etc.
** A paper may contain 4 authors (including guide) in the nominal charge.
** If there is more than 4 authors in the paper, extra author have to pay Rs.500/- per head.
** Any one author can come and present their paper for mentioned registration fees.
** If co authors wants to participate, he / she has to pay Rs.500/- per head.
** Acceptance / Rejection will be intimated as soon as possible.
** Other State / Foreign authors who are not able participate can present their paper in absentia mode.
*

Selected Papers will be published in Scopus, Web of Science core collections, UGC Care list and SSRG international journals
| | | |
| --- | --- | --- |
| Shri. K. Upender Reddy | Chairman | ISTS, Rajhamundry |
| Shri. K. Anusha Reddy | Vice Chairman | ISTS, Rajhamundry |
| Dr. K. Suresh Babu | Principal | ISTS, Rajhamundry |
| Shri. K. Satish Reddy | Secretary | ISTS, Rajhamundry |
| Dr. C. H. Vijayakumar | Professor | ISTS, Rajhamundry |
| Dr. R. Surendhiran | Associate Editor | SSRG International Journals |
| Mr. V. Prasad | Associate Professor | ISTS, Rajhamundry |
| Dr. Basavaraj Patil | Organizing Committee Member | ISTS, Rajhamundry |
| Mr. DDD. Suri Babu | Organizing Committee Member | ISTS, Rajhamundry |
| Mr. T. Chandrasekar | Organizing Committee Member | ISTS, Rajhamundry |
| Miss. P. Varalakshmi | Organizing Committee Member | ISTS, Rajhamundry |
| Mr. Ramesh Babu | Organizing Committee Member | ISTS, Rajhamundry |
| Mr. K. Ashok | Organizing Committee Member | ISTS, Rajhamundry |
Visiting Locations:
Pushkar Ghat:
Pushkar Ghat is a Bathing Ghat on the banks of the river Godavari near the city of Rajahmundry. It is surrounded by several ancient temples like Sri Kotilingeswara Temple and Sri Markendaya Swami temple. It is one of the several important Bathing Ghats in Rajahmundry. Devotees throng to the Ghat throughout the year. The spot is believed to wash away the sins of those who take a dip in its waters. The fact that several important temples are near to the Ghat only augments its importance in the mind of the devotee.

Iskcon Temple:
One of the most famous temples in Andhra Pradesh, Iskcon Temple is a recreational centre in Rajahmundry. It is known as the second-largest Iskcon Temple in the Southern region of India after the Iskcon in Bangalore. Also known as Gowthami Ghat, this temple is a popular worship spot and is definitely worth a visit.

Maredumilli:
At a distance of 85 km from Rajahmundry, 112 km from Kakinada, 118 km from Bhadrachalam, 233 km from Khammam, 241 km from Vizag, 245 km from Vijayawada and 432 km from Hyderabad, Maredumilli is a village situated on Bhadrachalam - Rajahmundry highway in East Godavari district of Andhra Pradesh. Amidst the semi evergreen forests, it is one of the top places to visit near Rajahmundry and among the best places to visit in Andhra Pradesh.

Rajahmundry - Godavari Bridge:
The Godavari Bridge or Kovvur–Rajahmundry Bridge is truss bridge spanning Godavari River in Rajahmundry, India. It is India's third longest road-cum-rail bridge crossing a water body, first one is The Bogibeel Bridge is rail-cum-road bridge over the Brahmaputra river in the Dibrugarh district of Assam state in north-east India and second is Digha–Sonpur Bridge over Ganges in Bihar.

Mandapalli-Mukteswaram Temple:
Mandapalli is Situated 38 Km from Rajahmundry, 60 Km from Kakinada and 30 Km from Amalapuram.In the days of yore, this locality was the holy ashram of the sage Dhadhichi Maharshi. This hermit Dhadhichi has done a supreme sacrifice of donating his valuable spinal cord for the mighty and powerful weapon popularly known as Vajrayudha of Lord Indra, which was employed to kill the deadly asuraas.

Sri Rallabandi Subba Rao Archaeological Museum:
The Rallabandi Subbarao Museum is a very old museum. The museum is very well maintained and is one of the must visit places in Rajahmudry. The location of the museum is very unique as it is on the banks of the river Godavari.

Papikondalu:
Papikondalu is situated in the Godavari delta between rivers Goutami and Vasishta; a beautiful land of breathtaking beauty and coconut gardens that brings alive the varied charm of Mother Nature. There can be no beautiful journey than a cruise down the gentle waters of river Godavari and marvel it's untamed, pristine and virgin beauty of this magnificent place.